"As far back as I can remember I've always loved to fish"

When i was 5 years old I would be content to fish for hours as long as dad put a worm on the hook once in a while. Many years have past since my childhood but time did not diminish my zeal for fishing.
One day I found myself fishing Lake Ontario tributaries for spawning salmonoids. This was a new experience for me and I found the challenge of trying to land 20-30 lb. king salmon alot of fun. The more I fished up north the more I heard about steelhead (sea run or lake run rainbow trout that grow to large sizes). I learned that many experienced steelhead anglers consider a successful day just catching a steelhead and many fishermen have spent years without catching a steelhead.
I soon became determined to catch a steelhead and set dates to head north when the fish were in the river. I learned first hand just how difficult these fish were to catch. Two trips of fishing from dawn to dusk produced not even hooking one of these fish.
I planned a 3 day trip in late October, the first two days produced nothing, but at the end of the second day, I found a pool that was holding steelhead, so I planned to be there first thing in the morning. It was still dark when I arrived at the river. After 20 minutes, another fisherman approached and asked if I minded if he fished the pool also. Not minding, I said, "sure", and he started fishing about 10 feet downstream. I was surprised that he quickly hooked a steelhead and played the fish down river. He came back and hooked another fish. I soon lost count of how many fish he hooked. I hooked on the same type of fly as he had on but nothing worked. I simply couldn't hook up with a fish.
Seeing my frustration, he came over and gave me some pointers. He told me a large run of steelhead were in the river and that I needed to use a longer, lighter leader and change my drift. Doing what he suggested, it didn't take long before a large steelhead took the fly and raced down stream. After a twenty five minute battle I landed a 13 1/2 pound steelhead - a real trophy.

BUT THAT WASN'T MY CATCH OF A LIFETIME...

I was working as a mail handler moving sacks of mail from tractor trailers. One night I was taken back when a driver named Tom asked me if I felt I was going to heaven. I thought for a minute, being a regular church attender and what most people would think of as a nice guy, and said, "probably."
We got together a short time later and Tom shared from the Bible that no one deserves heaven by being what they feel is a good person. The Bible says that there is no one good, no, not one (Romans 3:10) and that all have sinned and fallen short (Romans 3:23).

JUST LIKE FISHING FOR STEELHEAD, I THOUGHT MY METHOD WAS RIGHT, BUT I WAS WRONG.

Jesus said "The only way to the Father is through Me" (John 14:6). Most people know Jesus died on the cross for sin, but they fail to realize that He died for their sin. The Bible says that the wages of sin is death (hell) but the free gift of God is eternal life through Jesus Christ (Romans 6:23). Even if people think we're good we still need Christ, without Him we are doomed to hell, which the Bible describes as the lake of fire and eternal torment (Revelation 20:10).
It doesn't matter how bad or how good you think you've been, Christ loves you and His death on the cross is sufficient to cover your sins. All you need to do is let Him into your life. Christ says, "Behold, I stand before the door and knock. If anyone hears my voice and opens the door, I will come in" (Revelation 3:20). That door is your heart.
Don't be like I was and feel that you are good enough to get into heaven or let pride get in the way. Life is short, the Bible says that it is like a vapor that soon passes away (James 4:14). Everything we possess on earth, we will leave behind when we die. Jesus said, "What good is it for a man to gain the whole world, yet forfeit his soul" (Mark 8:36).

IF YOU FEEL THERE IS SOMETHING MISSING IN YOUR LIFE...

...remember that Christ can change your life. All you need to do is give Him the opportunity.
You can ask Him to come into your life right where you are now. All it takes is a simple prayer like, "Jesus, I know I don't deserve to go to heaven and that I'm a sinner. I accept what You did on the cross for payment of my sins. Please come into my life." But don't stop there. Jesus said, "Take up your cross and follow Me" (Matthew 16:24).

HERE ARE THREE THINGS THAT CAN HELP YOU FOLLOW HIM:

1. Get a Bible and start to read it.
2. Find a church where the Bible is taught as the infallible Word of God and attend regularly.
3. Pray daily. Find a time that you can spend in prayer every day.
Committing to these 3 things will help you grow as a Christian.

I can now catch steelhead on a regular basis, but this has taken committment to practice different techniques and alot of reading on these fish to learn about them.
The more you read the Bible and pray, the more you will learn about God.
Please consider this - if you forget me and this tract you've lost nothing, but if you forget Christ, you've lost everything.
Bob Delonas



20 lb salmon river steelie
Delaware river walleye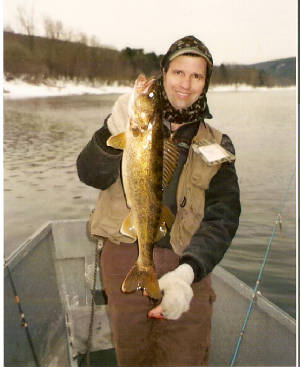 Delaware river winter walleye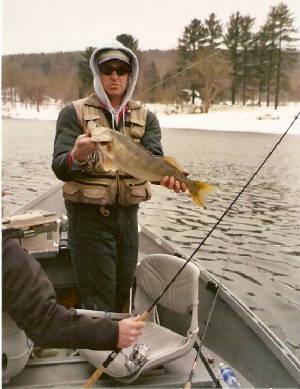 Delaware smallie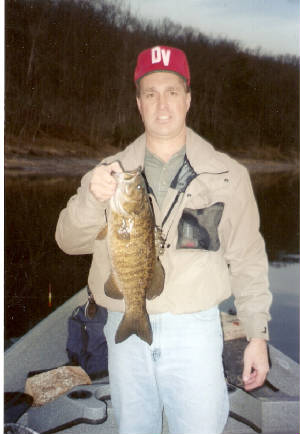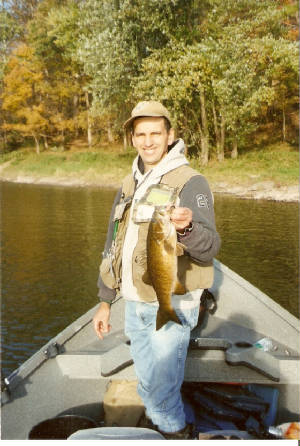 Delaware stringer winter eyes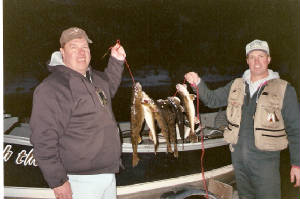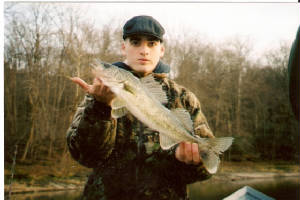 Weekly Update 6/22/18 Delaware river, my son fished the river early in the week and found a slow pick of Smallies. Smallmouth are coming off the spawn and that fishing schould get better in the next few weeks. Very few reports otherwise on the river, some Walleye, Catfish and Stripers are being caught at dark. Fished a local small lake on Wednesday for Crappies and did fairly well for this time of the year. We used small kietechs and spinners, they still seemed to be schooled up, unusuall for this late in the year. Other decent lake reports of Bass and Walleye being caught, best fishing prior to dark. Best reports were salt water, consistent keeper Flounder being caught in boats and Large Blues finally showing up. Most party boats are doing well. 6/16/18 Delaware river, the big news is Bass season opens tommorow. Hot weather is on the agenda this coming week. So with this in mind fishing the river early in the day or prior to dark usually is the most productive and comfortable. Getting in a boat and covering water is the way to connect with the most fish in the Summer, tossing bait, lures or jigs. There have been just a few reports on the river, but Walleye, Bass and Schoolie Stripers are being caught. Local lake reports are mixed with fishing going into the Summer season, fishing late or early is the best time with fish on a more active feed. Working the drop offs close to the shoreline with Jigs or bait catch fish this time of the year. 6/8/18 The Delaware is running at a nice level and look great, but the fishing has been tough. From the lack of reports it seems many are having the same fishing experience. There were some reports of Stripers caught, mostly down stream from rt 80. Smallmouth will open in about a week, they will be coming off there spawning cycle and schould be feeding, hopefully this will get the action going. Reports from the local Trout streams are much better, but fly fishing is the bulk of the action. The surf reports are the best they have been this year, but no blitzes, this may be the final week before the Summer crowds, hard decision. Local lake reports are on the slow side. 6/1/18 Do not know if it was the full moon or the start of that summer transition but the three fishing trips this week were slow. The Delaware was running a little high and off color but looked fish worthy but we struggled to put one short Walleye in the boat well after dark. Saw a few Shad but they looked to be in the zombie mode and reluctant to strike. The lake trip we made was not much better, managed a Hybred Striper well after dark saving the got skunked. The reports from the Trout streams seemed more favorable, they were from fly fishermen. The salt water action reported were mixed, more on the slow side. Next week is out of the full moon stage and cooler weather is predicted so hopefully a better week.


LINKS